I say this every year but in addition to being pleased that I remembered the site's birthday a whole two days prior, I'm grateful for the entire experience. A new contest and a whole bunch more of my babble after the jump!
Again, it's been eight surprisingly short years since I launched PlaidStallions on a quiet Saturday afternoon. I was hoping somebody would get the joke but I never anticipated having a readership, let alone an action figure, a podcast or working on my second book (details soon) and I owe it all to you, the wonderful people who have commented, emailed, encouraged, helped out and supported this crazy endeavour.
I'd like to thank you all with a contest, steeped in polyestar.
See this guy? He needs a name:
This fine gentleman has appeared countless times over the year and it's about time he's dubbed a fine moniker in the tradition of other PlaidStallions Supermodels as
Brick Mantooth
Guy Karate (who long time readers will remember was named in a 2009 birthday contest)
Runner Up Prizes: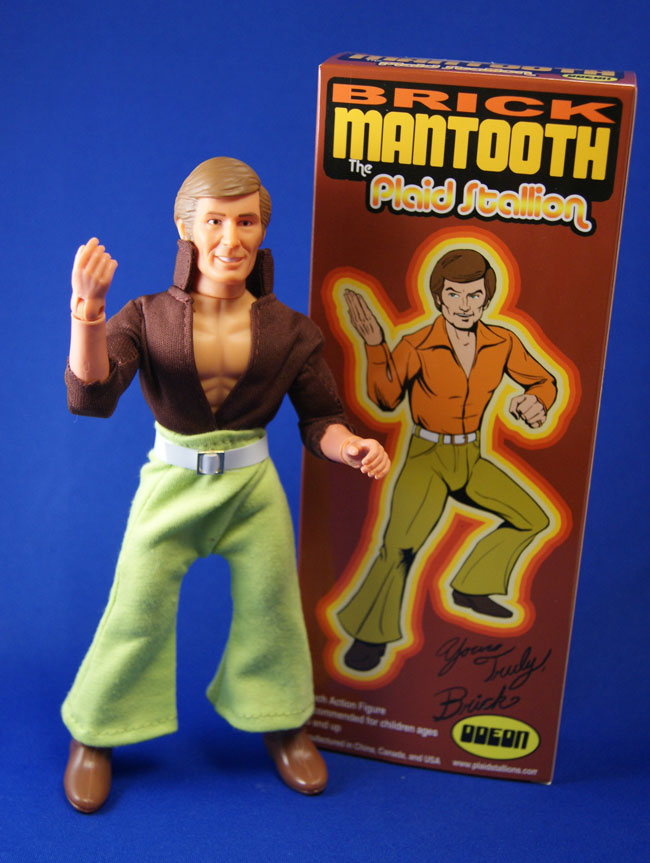 2 lucky people will get Brick Mantooth action figures (from Odeon Toys) and a mess of other goodies.
Grand Prize:
First prize will not only make history by naming that dude but also recieve my next limited mash up figure Ron: Space Pimp absolutely free.
How to Play: Send your name (only one please) to me at Brick*at*plaidstallions.com (but replace *at* with @, ya dig?)
Contest closes May 5th at noon. Winners announced the following Friday.
Good Luck and thanks for reading!
PlaidStallions Facebook
PlaidStallions Twitter