This should almost be a Nerd Therapy Session but I'm so nostalgic for this time, that I can't throw it under that bus.
You see, when the Disney Sci Fi epic "The Black Hole" came out, I was that kid who thought it better than Star Wars, it just struck a nerve with me.
Most likely it was due to the week where I got the flu and in order to pass the time my Mom bought me every Black Hole comic and activity book she could find.
It was also around that time that an incredible offer was made for Canadian kids, however it did have it's price....(more after the jump)
"Shreddies" cereal ran a tie-in promotion for the Black Hole (they had a running thing with every Disney movie) in the form of the pencil holders shown above. Good for one box anyway but wait, there was more to the story. Send in five (I think) box tops and get a free set of Mego Black Hole action figures.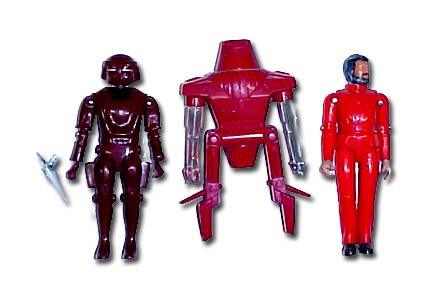 Seriously, I'm only human.
That changed everything, it was like getting a kickback for your parents groceries. I took the bribe and BEGGED for Shreddies, seeing as it's actually fairly healthy cereal it was a home run.
Every morning for months, I was spent every morning with a fresh bowl of Shreddies. The only hitch to the plan? To me, the cereal tastes like a gritty lump of wallpaper paste floating in a sea of bland.
I wasn't alone in this endeavour, my two "best buds" (three's never work but I'll save that for NST) at the time who were also suffering through it. We formed a quasi support group.
My pal Rick (an incredibly spoiled only child, who I will write a mountain of NST about) finished first, how'd he do it? He cheated. "Pour milk in the box and tell your mom they're stale!" he told me on the playground.
still gives me shivers
I flirted with doing that but while that trick may have worked for "Mommy's special snowflake" Rick, my mom came from a four kid working class Irish/Scottish household. I could picture myself eating those stale Shreddies or worse, getting caught pulling off the crime.
Rick would call me some eight weeks later and tell me he got his three Mego figures and to be on the look out for an envelope with Maximillian on the front. I remember when it came and the joy it brought, I harken back to it almost every time I get an ebay box. I still have the figures by the way, Sentry, VINcent and Max.
By the way, if anybody has the envelope or box from this offer I WILL GIVE YOU ANYTHING YOU WANT FOR IT.
Last year, my buddy jason of the Incredible
CollectingCandy.com
gifted me with this Black Hole Shreddies box from the second promotion. The space signallers, oh how I wanted them but with no action figure incentive, there was no way I would be down with these.
Jason was also kind of enough to chuck in three of the space signallers as well, first time I'd held them or seen them since the TV commercial.
To this day, I still can't bear the thought of Shreddies. In the 1990s, they ran a Star Trek promotion and a collector friend in the states paid me to buy the cereal and get the little plastic ships that came with it.
Even though I was a starving student at the time, I couldn't bring myself to eat the stuff instead letting my room mate devour it. As long as it was my food, he seemed particularly easy to please.
Eventually I tracked down a dealer who was just selling the ships, I asked him "what did you do with the cereal" he chucked back "I threw it out, even the homeless shelter refused me!"